Android application Supermon - finance manager
Your manager for personal or family finances
You can try it here for free.
Here you can read the review on the portal Free apps for me.
Supermon is your assistant in personal and family income and expense record keeping and administration. You can easily monitor and administer finance flow in your family, you can have clear overview and find out who spends more money on something and who, on the contrary, contributes more. You can also plan your monthly budget and subsequently monitor how you are stuck to this budget on graphic indicators. The application contains very extensive and really unique possibilities of statistics depiction through transparent charts or well-arranged tables. It is possible to display virtually any reports depicting your economic activities. Of course, it is possible to backup your database or export your data to files.
Personal finance
Home finance
Easy management of incomes and expenses
Clear overview of your economic activities
Verified money savings
Breakdown to categories
Breakdown to participants/accounts
A huge number of statistics – tables and graphs
Monitoring of planned budget implementation
Monitoring of maximum planned expenses
Data backups
Data exports
Detailed instructions directly in application
When preparing this application we put special emphasis on features such as simplicity, comprehensibility, users' comfort, functionality and graphic clarity, which we lacked in other applications. In case of Supermon you know immediately where something is, how to get to the screen you require and you will not be surprised by appearance or meaning of any elements or application operation. The use is really simple and intuitive. We also intentionally got rid of all the unnecessary stuff which we found useless and confusing.:-) However, it is not impossible, on the basis of the feedback from the users, to put some of the matters back into the application or add some new ones.
Some of the features on which the emphasis was:
Simplicity
Comprehensibility
Intuitive use
Users' comfort
Graphic clarity
No ads
We also took into consideration that some users use devices with older version of the Android system and we gradually reworked the application to be supported by 2.2 (Froyo) version and higher.
Samples
Economic indicators screen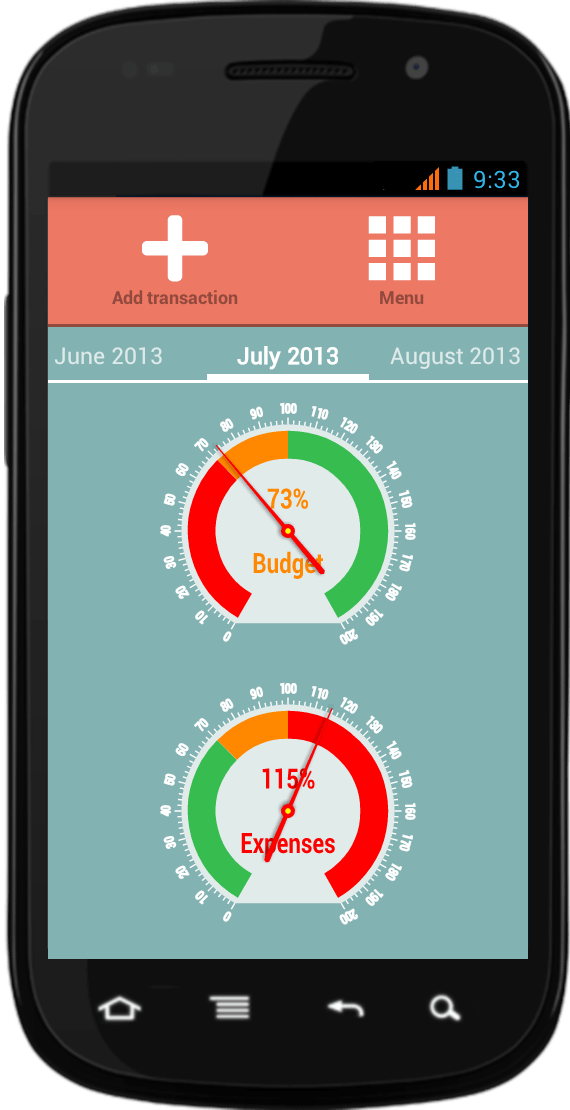 Main menu
List of transactions
Pie chart with expenses by categories
Bar chart with the balance by participants
Bar chart with the account state at the end of each month
Bar chart with the fulfillment of planned budgets
Table depicting the balance by categories
List of periodic transactions
Necessary permissions
Internet access
As the sophisticated correcting of potential mistakes is a part of the application too, it is appropriate for us – the authors of the application to know about these potential faults. If a mistake arises in the application, you – the users will be able to decide whether you want to or do not want to send us automatically generated description of this fault. If you decide to send it, the message will be sent to our servers via the internet and we will be able to analyze and rectify particular complications. The application does not connect to the Internet in any other cases!
SD card access
It is possible to make a backup of your data in the application. It is not necessary to explain how important it is to make a backup. If you do not want to lose your data, make a backup, make a backup and once more make a backup. Supermon application enables you to make a backup of your data on SD card of your device, for which authorization is required.
Vertical and horizontal orientation
Vertical as well as horizontal orientation of the screen is fully supported by the application.
Version of application
Actual version of the application is 2.1.6.1.
History of versions
News in the version 2.1.6.0
Added possibility to filter transactions
Added possibility to transfer transactions between participants
Added possibility to protect application by password
News in the version 2.1.5.0
Increased readability
Added possibility to choose from three color schemes
News in the version 2.1.4.0
Improved exporting and importing - possibility to select CSV separator, better handling of files encoding
Allowed 3 periodic transactions in free version of Supermon
News in the version 2.1.3.0
Added possibility to import data into the Supermon
Speed optimization and several improvements
News in the version 2.1.2.0
Supermon can be installed on the external storage
News in the following versions
We are currently working on other tweaks that make work with the application Supermon easier. Here is a list of several of them:
Translations into more languages
Other useful informations in statistics
Synchronization
Our other applications
We have prepared the application Matematikus 9, which is intended especially for students of the 9th grade. The application will take care of the successful passing of entrance examinations at the High School. More info here.
Try to use application Testy z autoškoly to prepare for the final exam in driving school (czech users only).
We are pleased for your support!
If you want to support the application or accelerate its development, you can do it here: